Welcome to our Society, the International Yacht Marine Certification Society ( iymcs ).
Society Quarterly Report.
During the previous year we saw a general recovery within the marine industry. Some sectors have closed the year with good results, other sectors have been struggling with a limited trading activity. The new builds of the pleasure yachts and super-yachts continue their upward trend with good order books. The pleasure bare-boat charter market experienced a stop-go activity caused by the continously changing travel restrictions and lock-downs. The super-yacht charter business was very busy but suffered from a lack of availability due to owners wanting to use their boat themselves during the peak charter seasons. The refit yards have been very active due to an upsurge of major refits. The commercial workboat sector has been consistent.

The job situation for the professional yacht crew was stable throughout the year. The commercial work-boat sector saw a slight increase in demand for crew. The maritime schools and colleges faced difficulties during the 1st & 2nd quarters, many reverted to online courses and distance learning courses with mixed results. From the 3rd quarter onwards, normal activity resumed with a return to physical presence classes, there was also a small upsurge of course bookings.

Here at iymcs, we have been very active with our development program and we continue to make good progress. Various iymcs Courses have been running in our Member Schools allowing us to test our systems and assess the student results through our Quality Management System. The feedback for the Courses iymcs from the Students and the Member Schools has been positive. Throughout the year, we have seen an increasing amount of support from industry professional for the work that the Society has been undertaking this has been great. We have steadily increased the number of Member schools, currently we have fifteen signed-up as Members of our Society, twelve of these being established schools. Additionally, we have another four schools joining as Members in the coming months.
Key News:
In April 2021, we undertook the third of the ISO 9001:2015 audits for our custom made Quality Management System. I am pleased to say that we passed the British Standards Institute ISO audit, our QMS has been certified ISO 9001:2015. The all-important scope of the Certification is stated as "Provision of approved training courses to members including individual certification services". The Scope and its definition is very important for gaining recognitions and approvals from industry bodies and Maritime Flag Administrations.
In October 2021, we appointed the Society's Advisory Panel consisting of four well-qualified maritime professionals, each having a different training, skill set and sea-time experience, whose principal job is to advise and guide the Society's Board of Directors.
In December 2021, the Members section of new Extranet platform ( iymcs.net ) was launched for our Member Schools & Colleges, as well as for our instructors/teachers. We spent nine months developing it and a further three months of beta testing. The Extranet platform has been designed to work on 3G 512 KBs out at sea (it even features a night instrumentation mode); it is fast, logically laid out and user friendly from a Course and Administration point of view. The key features include Course Documentation, Safety Notices, Marketing Materials, Student/Candidate Documentation, Course Materials etc. The Student/Candidate section is currently being worked on, we expect to launch it at the beginning of April.
During the year, we issued numerous iymcs Recreational & Professional Certifications, all have been well received by the industry and the students/Candidates themselves. In support of them, we have been liasing with the Insurance Underwriters and we started the official Recognition Application to numerous Flag Administrations.
Society Projection for 2022:
We believe that this coming year will see a steady improvement within the maritime training sector. The interest in online and distance learning courses will continue from many of the recreational schools however many of the professional schools & colleges are reviewing the results from this type of learning forum, many instructors and teachers are expressing their concerns.
As for our Society Members, many are planning re-structuring and re-formatting for the spring season, the Society is actively engaged with them in a business development support role. Additionally, the Society is now focusing upon B2B marketing and the key elements for B2C marketing.
About our Society.
We operate in three main maritime sectors:
Recreational Yachting.
Professional Yachting.
Marine Commercial.
We have taken a fresh approach to course design and content, as well as the Certifications themselves. We cannot 're-invent the wheel' as the saying goes, and there are IMO conventions that we have to respect: But in saying this, we believe that we have managed to create a set of courses and certifications that are unique in their aspect as well as their principals.
Our core development base is centred around a custom made Quality Management System (QMS) which is in full compliance with ISO9001:2015. This QMS and its compliance are important elements in obtaining recognitions and approvals from Maritime Administrations & Industry Bodies alike. Unusually for such an organisation, all our courses & certifications, as well our operations, will be under these standards. The principal reason is for us to maintain consistency in quality right across the board.
A unique aspect of our Society is that all the Nautical Schools and Maritime Colleges running iymcs courses are "Members" and are actively involved in the development of our Society. The Members are in effect part of the Society. We are a profit-making organisation though the majority of our annual profits are re-invested into the Society and its Members, as declared in our Society Statutes and within our QMS.
Thank you for taking the time to visit our webpage, we hope that you will become a "Member" and on behalf of our team, we look forward to working together with you.
Kindest regards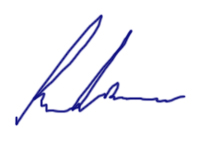 Roger G. Harrison.
Managing Director.